Located on the Yelapa beach, one of the most romantic places in Mexico and nestled in the lush rainforest of the Sierra Madre Mountains south of Puerto Vallarta, the Lagunita Hotel offers a place to rest that is in harmony with the tropical surroundings.
To get to Yelapa, you first must travel to Puerto Vallarta, which is located on the west coast of Mexico. Once in this beautiful city, you need to take a water taxi since there are no cars in Yelapa. The only road is unpaved and ends at the top of the hill (1 km from the village). This road is mostly used to transport material to the community.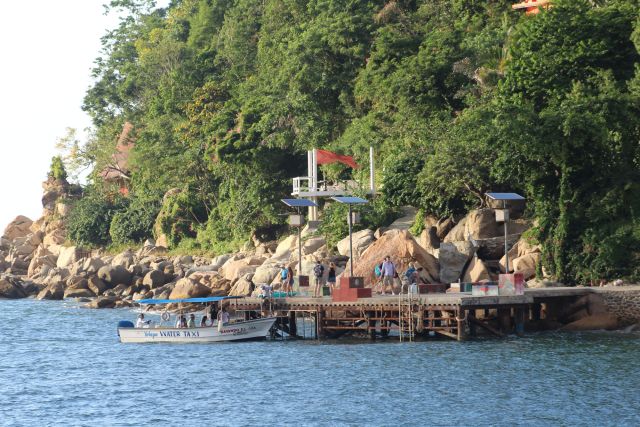 Departures to Yelapa there are daily departures from two different locations in Vallarta, Playa los Muertos located right in downtown Puerto Vallarta, also known as the Zona Romántica or Old Vallarta; and Boca de Tomatlan which is the last beach to the south of Vallarta. To get to this one, you would take a bus bound for Mismaloya (the famous beach where the movie Predator was filmed with Arnold Schwarzenegger), and this beach is the last stop on the bus route. The people of Vallarta are famous for their friendliness (you can trustingly ask any local person for directions).
There is an office with information about Yelapa in Vallarta located half a block from the Los Muertos Pier. (RECOMMENDATION: DO NOT BUY ROUND TICKETS FROM ANYONE; just proceed directly to the boat and pay the captain directly, so you can return to port at whatever time and on whatever boat best suits you).
The price of a water taxi from the Los Muertos Beach is $140 pesos per person and that includes your luggage. (The best and most honest boats are Rayando el Sol and La Güera).
Departures from the Los Muertos Beach 10:00 a.m. / 11:00 a.m. / 11:30 a.m. / 4:30 p.m. being the last taxi to the hotel.
The price of a water taxi from Boca de Tomatlán is $70 pesos per person and includes luggage.
Departures from Boca de Tomatlán 9:00 a.m. / 10:00 a.m. / 11:00 a.m. / 24:00 / 1 p.m. / 2 p.m. / 3 p.m. / 4 p.m. / 6 p.m. and 6:30 p.m. being the last taxi to the hotel.
Good news! The Lagutina Hotel in Yelapa now has its own water taxi for late arrivals or simply to enjoy a private trip to the facilities. Inquire about the cost directly with us.